Munin
Washakie Iowa
This web site is dedicated to Munin. Our typically beautiful, intelligent, friendly, treasured and adored Dalmatian.
Anne Dickens and Crosbie Fitch.
| | |
| --- | --- |
| Munin's mum is Ch Washakie Summer Dance and her dad is Solar Eclipse of Washakie. She came from a litter of eleven beautiful, bouncing pups. Here is Munin at five weeks between two of her sisters. I had no problem choosing her, as I prefer faces without too many spots. | |
Click here to view Munin's pedigree.
My other Dalmatian was a family dog of the 1960/70s. She was a Tirriemore bred by Florrie Childs. Her name was Penny Bun. Here are some pictures of her and us. You can see that my dog and my cacti collection were the two most important things to me!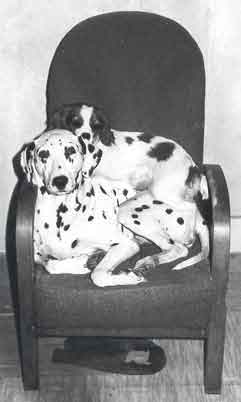 Penny always slept with her friend our Cavalier King Charles Spaniel Tuppence. Our family has since owned many breeds, including more Cavaliers, a Border Terrier and French Bulldogs. It has had Boston Terriers and English Bull Terriers for many years.